admin, Tuesday 07 July 2020 - 10:01:00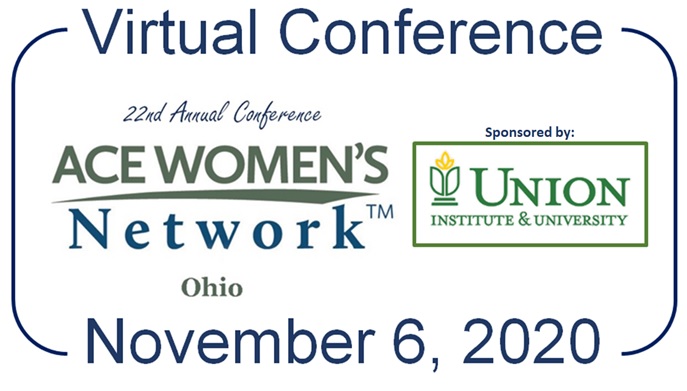 Disrupting: Uplifting Women's Leadership in Times of Change
The American Council on Education Women's Network- Ohio (ACE WNO) invites you to submit a proposal for its 22nd annual conference. Due to current circumstances, this conference will be a Virtual Conference, sponsored by Union Institute & University. 
Conference sessions are intended to create opportunities for deep discussion and skill-building related to developing women, and to inform attendees on current higher education issues and trends. Practice-based proposals are especially encouraged.  The 2020 WNO conference theme, "Disrupting Our Normal: Uplifting Women's Leadership in Times of Change" is meant to guide presenters, not to restrict proposal ideas. As the Call for Papers is released during our nation's response to the coronavirus (COVID-19) and Black Lives Matter, as well as Say Her Name, we encourage you to consider strength, allyship, community, leadership and support in times of turbulence. This theme also is intertwined with ACE's goal of moving the needle to increase women's representation in senior leadership positions. We also hope that you consider how we can disrupt exclusionary notions of leadership to create a more expansive, inclusive vision. 
Suggested concurrent session topics include, but are not limited to, the following (starred topics will be given priority consideration): 
Inclusive Leadership*

Accessibility and Allyship*

Queering the Campus C-Suite*

Women of Color and Higher Education Leadership *

Responses to COVID-19 (emergency planning, teaching online)*

Crisis Management

(Dis)continuity planning

Career Planning 

Access and Equity for Women in Higher Education* 

Salary Negotiation 

Moving from Faculty to Administrative Roles* 

Staff Advancement into Leadership Roles 
Women in STEM and Under-Represented Fields 

Mentoring, Sponsoring and Uplifting Women 

Best Practices in Administration (entry, mid & senior level) 

Characteristics and Contributions of Leadership that Empowers (from feminist, womanist, mujerista lenses)
Mapping Career Paths 

Imposter Syndrome, Superwoman Syndrome, and Redefining Success

Questioning the Concept of Civility & Silencing Voices
Possible Concurrent Session Types:  
Presentation (75 minutes): This format is a presentation of research, practices, topics, or programs presented by an individual or group in a traditional lecture format. Up to three individuals can submit together for a panel presentation.  
 
Workshop (75 minutes): The workshop is an activity-based session in which an individual or group provides context and depth on the subject and then facilitates a discussion or experiential learning activity with attendees.
Note: Presenters are encouraged to leave time for Q&A near the close of their sessions.  
Tips for Creating a Successful Proposal: 
Clearly and thoroughly complete each portion of the of the proposal form. 

If feasible, relate the topic of the session to the conference theme. 

Clearly state the goals and objectives of the session. 

Focus the topic so that the presentation fits within the allotted time frame. 
Target the topic to a mixed audience of faculty, staff, administrators, and graduate students. 

Include an interactive component (if appropriate). 
To review last year's conference program, click HERE.  
Concurrent Session Proposal Requirements and Submission Information: 
All proposals must be submitted by Monday, August 3, 2020 via this ONLINE PROPOSAL FORM.  Late and/or incomplete submissions will not be considered. 
Presenters will be notified no later than August 31, 2020 if their proposals have been accepted.  
Accepted presenters will be asked to provide a professional headshot and short biography for inclusion in the conference program. 
Questions about this CFP should be directed to Dr. M. Geneva Murray at murraym2@ohio.edu with the subject heading "ACE WNO Conference."
---
this content item is from ACE Ohio Women's Network
( https://www.aceohiowomen.org/plugins/content/content.php?content.173 )