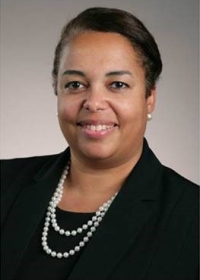 Co-Chair Emeritus
Shanda.gore@myunion.edu
Vice President for Institutional Innovation and Economic Development
Union Institute and University

Dr. Shanda Gore is Associate Vice President for Equity, Diversity and Community Engagement and Chief Diversity Officer at the University of Toledo. Dr. Gore works with leadership across campuses to assist in the development and implementation of strategic plans to support UT diversity initiatives and serves as the Chair of the UT President's Council on Diversity, which has a charge to address minority business participation in the UT supplier chain.
 
Dr. Gore leads a number of other campus-wide, diversity-enhancing committees including overseeing the President's Lecture Series on Diversity. She is responsible for leading the Catharine S. Eberly Center for Women focused on the issues and empowerment of women and creating and directing the Minority Business Development Center that nurtures entrepreneurial and economic development in the Toledo community.
 
She leads diversity training for faculty and staff through the Culture Building Institute, assists with the recruitment and retention of a culturally diverse student body. Dr. Gore teaches the graduate certificate for diversity and is a dissertation committee member for graduate students needing an expert in the area of diversity. Dr. Gore was recently awarded a state grant by the Ohio Development Service Agency totaling more than $440,000 to host a Minority Business Assistance Center Program.