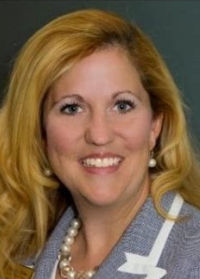 Dr. Delia (Dee Dee) Pfister has served at Cuyahoga Community College for 8 years in several leadership roles including her most recent promotion to the Associate Vice President of Academic Professional Development, Online Learning and Technology, and Transfer and Articulation.  Her past leadership roles at Tri-C include the Dean of Academic Affairs (Metro Campus), Interim Dean of Academic Affairs (Western Campus) , Associate Dean of Liberal Arts (Western Campus), Interim Assistant Dean of Student Affairs (Metro Campus), Assistant Dean of Academic Affairs (Metro Campus), and Adjunct Faculty.  Prior to her career at Tri-C, Dee Dee served in both the corporate and higher education sectors at Ursuline College, Lake Erie College, Fifth Third Bank and Axelband and Brown Advertising.  
Dr. Pfister's leadership talents have produced innovative strategies to promote student scholarship and maintain high quality standards in academia.  Her marketing experience has served many organizations well, including successful new product and program launches. 
Among her many notable accomplishments, Dee Dee was nominated to participate in the 2019 OACC Leadership Academy, 12-13 Mandel Leadership, and 12-13 Chair Academy for Leadership programs and was recently selected to serve on ACE Women's Network Ohio Executive Board.  In addition, she has received multiple research and teaching awards in her higher education career, including; the 2017 National Council on Student Development (NCSD) Dissertation of the Year Award,  2013 League of Innovation – Innovation of the Year Award, 2010 Ursuline College Spirit Award, the first two-time winner of the Ursuline College Accelerated Program "Facilitator (Instructor) of the Year" Award (2009 and 2003), the 2003 New Ventures/Regis University Teaching Excellence Award, and the 2003 Northeastern Ohio Council on Higher Education Excellence in Teaching Award.
Dr. Pfister holds a doctor of philosophy (Ph.D.) in higher education administration from Kent State University, a master's degree in interpersonal communication, a graduate certificate in women's studies, a bachelor's degree in organizational communication, and a minor in studio art.  Dr. Pfister was the first student in the Ohio University School of Communication to earn both a master's and a bachelor's degree simultaneously in four years.  In her spare time, Dee Dee enjoys gourmet and vegan cooking, marriage ministry, traveling, musical theater, and spending time with her family.