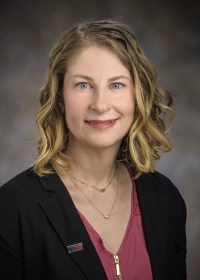 Amanda Watkins serves as the Associate Director for Wright State University's Veteran & Military Center. Amanda has over 10 years of experience in higher education with a focus on policy, military and veteran-students and adult learners. She is passionate about creating learning opportunities and reducing barriers for non-traditional students. She strives to create an inclusive work space in the Veteran & Military Center.
Amanda earned her B.S. in modern language (Spanish) education, an M.Ed. in Student Affairs in Higher Education and a graduate certificate in Women, Gender and Sexuality Studies.
She is a proud fur mama of 2 dogs and enjoys traveling around the U.S. with her husband, Chris.