Face of ACE Women's Network-Ohio:
Brittanie Kuhr
We introduce you to our Face of ACE, Brittanie Kuhr, from Lourdes University! ACE Women's Network-Ohio continues to explore new and creative opportunities to communicate who we are, provide networking opportunities for Ohio women in higher education and to promote women's professional advancement. Our new Faces of ACE posts will introduce you to women involved in the ACE Women's Network-Ohio.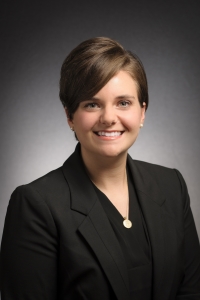 Name: Brittanie Kuhr
Title: Assistant to the President for Institutional Relations
Education:
B.A., Adrian College; M.Ed., University of Toledo
How long have you been involved with the ACE Women's Network-Ohio and in what capacity?
I have served as both the Lourdes University Institutional Representative and the Regional IR Director since January 2018.
What have you gained from your involvement in the ACE Women's Network-Ohio?
I have had the wonderful opportunity to add to my network of empowered, hard-working women who have provided invaluable guidance and support to me.
What are your research or academic areas of interest?
I am interested in the intersection between law and fundraising in higher education. Specifically, the impact public policy has on fundraising practices at institutions with less than 5,000 FTE.
What do you do for fun?
I love exploring my hometown as if I am a tourist. Toledo is known for its vibrant cultural and recreational attractions. I love our metroparks and libraries, both of which have systems of almost (20) locations each. My goal is to get to each library and park with my daughter before her first birthday. Someone hold me to this!