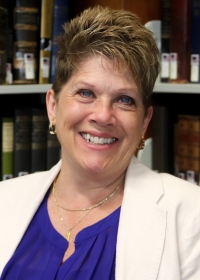 Sandra Schroer is a Professor and Chair of the Department of Sociology and Anthropology at Muskingum University in New Concord, Ohio. She is a recipient of the William Oxley Thompson Award for excellence in teaching. Her work in co-curricular programming and persistence efforts exemplify her commitment to student success. In 2017 she created Muskingum University's first bridge program for the academic success of first-year athletes. Today, Dr. Schroer leads the Inclusive Excellence team and serves on the Integrated Student Success Leadership team, a segment of Muskingum's strategic planning initiative. She holds ATIXA certification as a level one civil rights investigator.
With over 20 years in higher education, her experiences span the public university, liberal arts, and community college structures. Dr. Schroer's scholarly achievements include publications and conference presentations reflecting her research in human sexuality, diversity, and the scholarship of teaching and learning. She authored State of 'The Union': Marriage and Free Love in the Late 1800s, published by Routledge.
As an undergraduate, Dr. Schroer majored in sociology and communication with an emphasis in organizational leadership followed by graduate studies in sociology at Western Michigan University as the Leonard C. Kercher Fellow. She is a member of the 2018 cohort of the HERS Institute at Bryn Mawr.