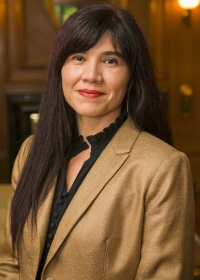 Board Member
foulis.5@osu.edu
Senior Lecturer, Coordinator, Service-Learning and Heritage Language
Ohio State University

Elena Foulis has over 15 years of experience in higher education. She holds B.A and M.A degrees in Spanish and Latin American Literature and a Ph.D. in Comparative Literature and Cultural Studies. Her dissertation developed a comparative cultural analysis of the novels of Gayl Jones, Denise Chavez, and Graciela Limón that focuses on how these texts promote an understanding of minority women's experiences that is accessible to a readership beyond their respective communities. The central argument is that these texts appeal to a sense of collective responsibility through the deployment of a transnational feminist lens. Her current research and teaching interests include U.S. Latina/o literature, and Digital Oral History. She teaches undergraduate courses in service-learning, Latin American Literature and Spanish for Heritage Speakers at OSU.
Dr. Foulis is working on a digital oral history project about Latin@s in Ohio, which is being archived at the Center for Folklore Studies' internet collection. Some of these narratives can be found in her iBook titled, Latin@ Stories Across Ohio. She is also host and producer of the Ohio Habla podcast, an extension of her oral history project. This podcast allows audiences to connect and learn more about the Latin@/Hispanic experiences locally, while amplifying the voices of the community everywhere. Elena is a member of the Oral History Association, Engagement Scholarship Consortium—where she serves as mentor for the Engagement Emergent Scholars Workshop—and the National Women's Studies Association.