Face of ACE Women's Network-Ohio:
Linda Steele
We introduce you to our first featured Face of ACE, Linda Steele, from Franklin University in Columbus! ACE Women's Network-Ohio continues to explore new and creative opportunities to communicate who we are, provide networking opportunities for Ohio women in higher education and to promote women's professional advancement. Our new Face of ACE posts will introduce you to women involved in the ACE Women's Network-Ohio.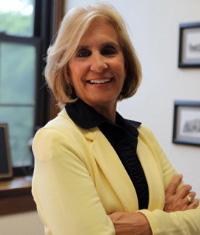 Name: Linda Steele
Title: Vice President of Enrollment and Student Affairs at Franklin
Education:
MA Communication, Ohio State University
1. How long have you been involved with the ACE Women's Network-Ohio and in what capacity?
Total of 16 years
Renewed and revitalized the Ohio Women's Network beginning in 1998
Served as a state co-coordinator for the Ohio Women's Network, 2007-2009
Current member of the ACE Women's Network Executive Council, which supports state networks by serving as liaisons and mentors to state coordinators and providing leadership for developing or strengthening state planning boards, 2010 to present
Chair of the Professional Development Committee, 2014
2. What have you gained from your involvement in the ACE Women's Network-Ohio?
Women engaged in the work of the network are action-oriented and high energy. They volunteer their time because they are passionate about the issues and they want to be part of the solution. I have gained new friendships, professional colleagues and mentors.
3. What are some of your favorite inspirational quotes?
"Life is 10 percent what happens to you and 90 percent how you respond to it." – Lou Holtz
"There is a special place in hell for women who don't help other women." – Madeleine Albright
In my discipline of marketing, one of my favorite quotes is: "The bait needs to be appealing to the fish not the fisherman." – Unknown
4. What is the best movie you've seen lately and why did you enjoy it?
Lee Daniels' The Butler. The film conjured up so many emotions. Forest Whitaker tugged at our hearts in his role as Cecil Gaines serving eight presidents during his 34-year tenure as a butler at the White House. Throughout the movie, in a realistic depiction, we were reminded of major historical events such as the Civil Rights Movement, the Voting Rights Movement, Vietnam, and other events which affected this man's life, family, and American society. Outstanding!