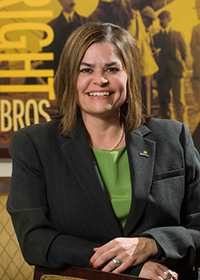 Emeritus State Co-Chair
Strategic Planning Chair
shari.mickey-boggs@wright.edu
Associate Vice President & Chief Human Resources Officer
Wright State University

Shari Mickey-Boggs serves as the Chief Human Resources Officer for Wright State University (WSU) which she joined in February 2014. Shari is responsible for the strategic and operational planning for all human resource functions including talent management, compensation, employee & labor relations, benefits, and organizational development. Prior to WSU, she spent nearly seven years as the Senior Associate Vice President for HR at Xavier University. Shari has 23 years of human resources experience in both private and public sectors with various industry experiences in retail, health care, government and academia. For the past 20 years, she has been in the higher education arena having served in several leadership positions with The Ohio State University; one key role was as Director of Work/Life where she spearheaded culture transformation in support of women and providing a work environment that is healthy, supportive and considerate of employees' work and personal life obligations.
 
Ms. Mickey-Boggs earned her BA in Political Science from The Ohio State University and her MBA from Franklin University. She is a member of the Colleges & University Professional Association for Human Resources and the Society for Human Resource Management where she served as a 2010 HR Executive Delegation to China. Shari received her Strategic Workforce Planning certification from the Human Capital Institute in 2011 and has spoken regionally and nationally on human resources topics. Shari currently serves on Cincinnati's United Way Human Resources Committee, Impact Solutions Higher Education Board of Advisors, and as State Co-Coordinator of the ACE Women's Network-Ohio.