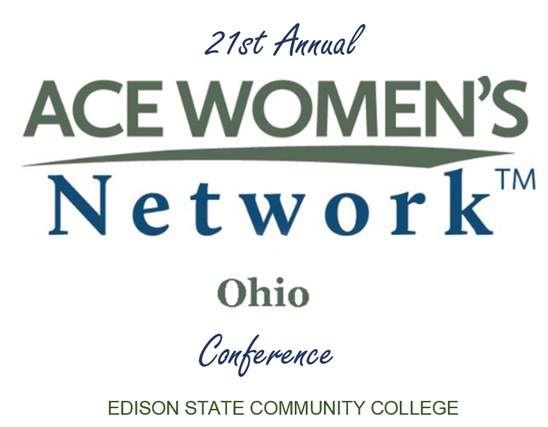 Friday, November 1, 2019
Authentic Leadership: Leading with Who You Are
The American Council on Education Women's Network- Ohio (ACE WNO) invites you to submit a proposal for its 21st annual conference hosted by Edison State Community College and held at the Piqua Country Club. Conference sessions are intended to create opportunities for deep discussion and skill-building related to developing women, and to inform attendees on current higher education issues and trends. Practice-based proposals are especially encouraged.  The 2019 WNO conference theme, "Authentic Leadership: Leading with Who You Are" is meant to guide presenters, not to restrict proposal ideas.  Suggested concurrent session topics include, but are not limited to, the following:
Career Planning

Access and Equity for Women in Higher Education

Salary Negotiation

Moving from Faculty to Administrative Roles

Staff Advancement into Leadership Roles

Women in STEM and Under-Represented Fields

Mentoring, Sponsoring and Uplifting Women

Women of Color and Higher Education Leadership

Best Practices in Administration (entry, mid & senior level)

Characteristics and Contributions of Feminist Leadership

Mapping Career Paths

Ethics and Civility
Possible Concurrent Session Types: 
Presentation (75 minutes): This format is a presentation of research, practices, topics, or programs presented by an individual or group in a traditional lecture format. Up to three individuals can submit together for a panel presentation. 

Workshop (75 minutes): The workshop is an activity-based session in which an individual or group provides context and depth on the subject and then facilitates a discussion or experiential learning activity with attendees.

Note: Presenters are encouraged to leave time for Q&A near the close of their sessions. 
Tips for Creating a Successful Proposal:
Clearly and thoroughly complete each portion of the of the proposal form.

If feasible, relate the topic of the session to the conference theme.

Clearly state the goals and objectives of the session.

Focus the topic so that the presentation fits within the allotted time frame.

Target the topic to a mixed audience of faculty, staff, administrators, and graduate students.

Include an interactive component (if appropriate).
To review last year's conference program, click HERE. 
Concurrent Session Proposal Requirements and Submission Information:
All proposals must be submitted by Friday, July 31, 2019 via this ONLINE PROPOSAL FORM.  Late and/or incomplete submissions will not be considered.
Presenters will be notified no later than August 31, 2019 if their proposals have been accepted. 
Accepted presenters will be asked to provide a professional headshot and short biography for inclusion in the conference program.
Questions about this CFP should be directed to Loleta Collins at LCollins@edisonohio.edu.